Tuesday, March 22, 2005
Schilling, Arroyo looking good.
"But today was a very big day. Everything that I'd hoped would happen, happened."
The words of
Curt Schilling
after throwing three simulated innings against a team of minor leaguers. Twenty-four of Schilling's thirty-seven pitches were strikes and the only runs he let up was a two run home run hit off a hanging splitter. Schilling still plans on being out for the first two weeks of the season, but everything about yesterday's simulated game seemed positive. Schilling felt good and everyone was happy with the way he threw. Once Schilling gets his season going I predict a near repeat of his near Cy-Young worthy 2004 season.
Bronson Arroyo
went six strong innings to get the win in Boston's
7-3 victory
over
Derek Lowe
and the LA Dodgers. Lowe let up only two runs on a two run shot by
Kevin Youkilis
, but still took the loss.
The current Red Sox ownership has
no plans for a new stadium
. I've always been torn on this issue. On the one hand, Fenway is a fantastic place to watch a ball game. It has more charactor and more recognizable features than any other stadium in the league. It has a history and it has a unique charm. On the other hand it'd be nice if the Sox were able to add another 15,000 seats in a new stadium. Perhaps that would make tickets a bit cheaper and easier to come by. Besides that, the stadium is pretty old. A nice, new park with all the mordern features could be a positive thing. I honestly have very little to compare Fenway to. The only other ballpark I've been to is Yankee Stadium, a place that I am completely unimpressed with. I'll be heading down to Baltimore to catch a game this year so I'll be able to see what a new ballpark looks like. All that, however, is besides the point. The Red Sox would like to improve upon Fenway and the surrounding neighborhood instead of building a whole new park. The team is looking to add more parking, a subway station on Yawkey Way, improved streets and sidewalks, and a cleaner environment.
On a final note....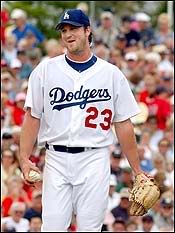 A picture of Lowe in another team's uniform is a beautiful thing.
Comments:
I'm unhappy with this decision. Sure Yaz and Ted played there, but that doesn't affect the ballpark experience today. The seats are uncomfortable, the aisles are too small, the concessions and concourse areas are too small and dank, the capacity is too low, large areas of seats face in a poor direction, and there are way too many obstructed views from poles and the roof overhead for the infield grandstand. These are all areas that need to be addressed to make Fenway a viable ballpark into the future and none of them were mentioned in the article as future improvements. The current owners have done a good job making small improvements, but what I've listed for the most part are massive projects.
As negative as that sounds, if they can make the improvements, than I'll be happy that they stay in Fenway.
Post a Comment
<< Home