Wednesday, March 16, 2005
Boston writers ready to give up?
I have decided to do a mailbag question and answer session. The problem is that I have no questions to answer. So if you're a regular reader here (all both of you) drop me an email or a comment and ask me a Red Sox related question! If I actually get a decent response I might do it on a regular basis. All I know is that if I ever want to be a major player in the sports world, I need a mailbag column! So help a brotha out, and ask away.
The Herald gets an early start to the
blame game
. You heard it there first, if the Sox lose it's all because of Queer Eye for the Straight Guy. And Bill Belichick would be very dissapointed. Personally I would think that it's a little early to start pointing fingers since they haven't even lost a regular season game yet. Hell, they won't even play a game for two and a half weeks! I think there's a deeper problem here. I think it's just that Tony Massarotti is homophobic.
I've been very tempted to purchase
MLB Gameday Audio
lately. It's only $15 to listen to every game all year. I'm tempted because the spring games aren't on tv, but they are on the radio. I don't have a radio in my room. Hell, I only have one in the house and it doesn't get WEEI. I just have to keep reminding myself that there's no need to pay the $15 when I can watch every game on NESN in a couple of weeks...I just have to keep repeating that. But it's hard, especially when I look at the scoreboard and see that the Sox already have a 6-0 lead in a World Series match up against the Cardinals.
And in advertisement news, the Sox have their own ice cream!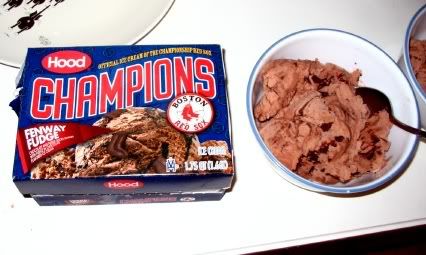 It's pretty standard ice cream, but I know it was made with love because the Red Sox logo is stamped on the top. They also have three other varieties if you're a freak and don't like chocolate.
Comments:
I'd like to participate in the mail bag, but have nothing really to ask. How about this:
Now that the "curse has been reversed" will you (and/or other fans) be as superstisious as they have been?
Ahh, what would Bill Belichick do? I seem to remember that question a lot last year too, but nobody mentions that anymore. Their hindsight has reporters saying they only wondered if Francona was being too soft. Also Belichick wouldn't do anything. Matt Light was made over either for Queer Eye or by a local news station ripping off that idea.
Post a Comment
<< Home